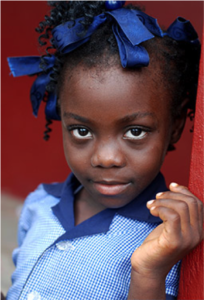 Salem is pleased to have a satellite congregation of creole-speaking Haitian immigrants which meets in the chapel of 1st United Methodist Church (225 S. 2nd Street) near downtown Chambersburg. This congregation is known as L'EGLISE PRIMITIVE DU SALEM COMMUNAUTE' HATIENNE or "Salem Haitian Congregation" in English.
To find out more about L'EGLISE PRIMITIVE DU SALEM COMMUNAUTE' HATIENNE, including service times, please contact Pastor Gener Lascase at 561-261-7638 (English or Creole). Mail can be sent to Pastor Gener Lascase 310 E King St., Chambersburg, PA 17201.
Here is the story of how Salem, an English speaking church in a rural area of Franklin County, PA came to minister to Haitians: For years, a collection of housing units belonging to a local apple orchard has set adjacent to Salem's property. Workers from Haiti live in these units and pick apples at the orchard from August through October each year. We, as a faith family, had tried to connect with these Haitian workers over the years in order to share the love of Christ with them, but had limited success primarily due to the language barrier.
Then, in August of 2008, God brought Pastor Gener Lascase to Chambersburg as a worker in the orchard. Pastor Lascase had been a pastor and church planter in Haiti but was doing farm work in the U.S. to support his family, who were now living near Palm Beach, FL. When he got to Chambersburg, Pastor Lascase immediately expressed interest in partnering with Salem to reach the Haitian farm workers for Christ. With Pastor Lascase's help as liaison and translator, we began holding worship services in Haitian Creole on Sunday evenings for the workers during the months they were in Chambersburg.
After the January, 2010 earthquake in Haiti, Pastor Lascase, his wife, and five children were granted permanent resident status in the U.S. and were now free to live anywhere in the U.S. and do work other than for farms and orchards. Discerning that God was calling him to move his family to Chambersburg, Pastor Lascase arrived in November of 2010. We began holding Sunday evening worship services in Haitian creole for Haitian immigrants in our newly acquired chapel building. The ministry to Haitians expanded in the next few years to include Sunday morning and evening worship services, Friday evening prayer services, and Saturday Bible studies.
Space constraints due to our growing youth ministry and Haitian ministry caused us to pursue other options for a meeting place. In August 2013, God blessed us with a suitable facility that the Haitian ministry could rent near downtown Chambersburg, closer to where most of the Haitians reside. After meeting for a time in the lower level of 2nd Lutheran Church, the congregation now meets in the chapel of 1st United Methodist Church.
Salem Haitian ministry is now Salem Haitian Congregation, a satellite congregation of our church. It is transitioning into a daughter church.