S

TAFF
Christopher Moore
Pastor
Chris Moore comes to us from Indiana, bringing with him a passion and enthusiasm for ministry. He, along with his wife Brenda, joined the Salem Church family in October. They have one daughter, Rachel, a senior at Cedarville University.
DARYL "SLUGG" KISSINGER
Director of Kids & Youth Ministry
Daryl (a.k.a. "Slugg") directs our high-energy Kids and Youth Ministry to Build Kids & Youth 4 Christ. He
recru
its,
trains, and encourages adult volunteers to lead kids & youth into maturity in Christ in God's high-energy, ever-growing kids & youth ministry at Salem.
Our purpose here at One Way Kids & Youth Ministry is this:
"Don't let anyone look down on you because you are young, but set an example for the believers in speech, in conduct, in love, in faith and in purity." (1Timothy 4:12)
Slugg and his wife Mindy live in Chambersburg.They have a son Brandon and daughter Ashley. They love spending time with family, going to the beach, and attending sporting events.
Slugg has been attending Salem since 2003 and has been on staff full time since March 18, 2007.
Many blessings to you all.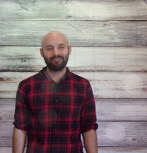 Spencer Cormany
Spencer plans and leads musical worship at Salem.
He lives in Chambersburg – where he grew up.
He started leading worship when he was 13 and has been involved in leading worship in a variety of contexts since.
In 2015, Spencer graduated from Liberty University with a bachelor's degree in Religion and a minor in Biblical Studies.
Since graduating, he's been leading worship at churches in the Chambersburg area.
In addition to leading worship, he also runs a website that aims to resource worship leaders to lead well in their local churches. (www.leadingworshipwell.com)
He joined the Salem staff in October 2020.
Here are a few things Spencer believes about worship:
I believe that worship is the reason that we were created.
Our sole purpose in life is to point to the worthiness of God.
I believe that worship is not confined to music.
We are able to point to God's worth in all areas of our lives – through how we work, how we interact with our family and friends, how we rest, through our spiritual disciplines, and – yes – musically worshiping God as well.
I believe that worship is not confined to Sunday mornings.
Because it is possible to worship God in all areas of our life, our worship is not confined to 1 hour a week on Sunday mornings. We have 168 hours a week to fulfill our purpose of worshiping God.
Angel Turk
Office Administrator
I have served as the Office Administrator since July
2020. I handle the day to day office duties, facility & vehicle rentals, bulletin assembly, all creative design projects and any other miscellaneous duties that come my way. I'm also the official secretary for our Administrative Board.
Jeana Wilmot
Finances
Jeana Wilmot has been the Salem Office Manager since February 2000. She handles the day to day office duties, facility & vehicle rentals, bookkeeping, bulletin assembly and any other miscellaneous duties that come her way. Jeana has served in a variety of ministries at the church, and has the record of longest service ever by any church staff member! She is also the official secretary for our Administrative Board, and keeper of church records and history.
Jeana grew up in Florida and Georgia, but has lived in Franklin County most of her adult life. She has been married to Tim, a Marine helicopter pilot and Assistant District Attorney for Franklin County since 1985. Tim and Jeana have three young adult children, Joey, a school teacher in New Jersey, Steven, a maintenance technician at Menno Haven, and Abigail, a college student and Lacrosse champion!
Interesting fact about Jeana: Because of her husband's military service, she has attended three different colleges along the way!
Jeana enjoys traveling with her family, reading mystery novels, attending lacrosse matches, & going to the gym with her husband, Tim.