____________________________________________________________________
Salem's Plans For Reopening – May 27, 2020
Good news! Our church family is going to begin gathering for worship again!

Beginning Sunday, June 7, we'll be meeting in the Worship Center building once again at our normal service times: 8:30am Traditional Service, 11am Contemporary Service.

In order to minimize the risk of coronavirus transmission, we have incorporated some specific practices that will be utilized until further notice:
There will be no Sunday School or Fellowship Time. No one will be permitted to use the Community Center or Youth Center on Sunday mornings.

Everyone will enter the Worship Center building through the vestibule on the side that faces the Community Center parking lot.

Doors will be propped open so no handles need to be touched.

There will be no greeters; bulletins will be picked up from a stack in the vestibule.

Everyone is required to stop at the hand sanitizer station in the vestibule and use hand sanitizer before entering the sanctuary.

Please refrain from shaking hands with one another and giving hugs.

Household groups are required to keep a six-foot distance from others not in their household the entire time they are on church property.

In order to maintain social distance, attendees are required to use every other pew. The pews will be clearly marked as to which ones are available for use at each service.

No offering plates will be passed. Offering will be dropped into buckets placed by the door on the way out of the building after each service.

The use of face masks is highly encouraged but not required.

We ask that you do not linger in the sanctuary following the services. Conversations among one another are encouraged but should take place outside at appropriate distances from one another.
We understand that utilizing these practices will likely minimize the risk of coronavirus transmission. However, there is no way for us to guarantee the safety of every attendee. Therefore, we encourage each person to carefully weigh the risks involved before determining whether or not to attend worship. The elderly and others with health conditions that make themselves especially vulnerable should consider staying home. Sunday morning sermons will still be able to be viewed online. Instructions on how to do that will be sent out via email.
We ask that everyone respect each other's decisions as to whether or not to attend worship at this time.
Please be patient as this is all new to us and this is a fluid situation. We may need to make quick adjustments as we work through our process and learn new information.
Salem's Board of Administration also asks for your continued prayers for wisdom as we proceed forward reopening the church for other programs.
Thank you for your prayers,
The Administrative Board of Salem U.B. Church
Welcome to
Salem UB Church
We are glad you could check us out and we hope you can join us some Sunday and meet our family.
At Salem, We are Spiritually Alive in Christ, United Together by Christ, and Being the Light of Christ!
We hope you can find your way around the Website. If you have any questions, please feel free to contact us anytime.
We hope to see you at Salem UB Church real soon.
God Bless You All
Check out this video featuring Sally Wadel, a member of Salem who, with the help of others started and continues Salem's Comfort Kitchen Ministry—serving the needs of family members and friends of those who are incarcerated. This is one way that Salem Church is being the light of Christ!
At Salem, what we are all about can be described by three phrases. We are Spiritually Alive in Christ, United Together by Christ, and Being the Light of Christ. Being "spiritually alive" means that we have received the eternal life God offers to us by receiving Jesus as our Savior, we are submitting to Him as Lord, and we are depending on the power of Christ within us (the Holy Spirit) in daily living. Being "united together" means that we come together regularly to worship our awesome God, that we commit ourselves to growing to be more like Jesus by participating in a smaller group of Christians like a Sunday School class or small group, and that we try our best to follow biblical guidelines when conflict arises among us. "Being the Light" means that the words we speak and the actions we take demonstrate who Jesus is to others in the world. It also means we use our gifts and abilities to serve Jesus and share the Good News about him with others so they can become "spiritually alive in Christ" as well!
Salem UB Word for the Week: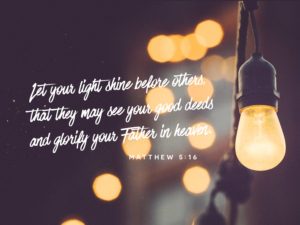 – – – – – – – – – – – – – – – – – – –
UPCOMING EVENTS
@ SALEM U.B. CHURCH
Wednesday Evening Adult Classes. Coffee & dessert will be served from 6:15 to 6:45; groups are from 6:45 to 8pm
Prayer – leader Jody Diehl:
Join in worship & prayer, bringing the requests submitted by members of our church family before the Lord.
That the World May Know: The Early Church – Leader Rob Mertz
Filmed on location, this study will help you discover the passion and commitment of early believers.
All Things New: A Study of 2Corinthians (ladies only) – leader Vicki Heckman:
Discover how each of us has a message to proclaim and live by: Because of Jesus the old has gone, the new has come. We will be using the book by Kelly Minter.
8:30 AM Traditional Service
11:00 AM Contemporary Service
WEDNESDAY NIGHT CLASSES
(September – April)
from 6:45 PM – 8:00 PM
*When Chambersburg School District closes for weather related reasons, Salem will not have Wednesday night activities.
SALEM UNITED BRETHREN CHURCH
What do we strive for? In a word…Authenticity. We want to know God. We want to have a relationship with Jesus, and we want it to be real.
COPYRIGHT NOTICE
The information on this site is the property of Salem United. No broadcasting or duplication of any sermons allowed without permission from Salem United Brethren Church.
CONTACT US
4349 Letterkenny Road,
Chambersburg, PA 17201
717-263-4123