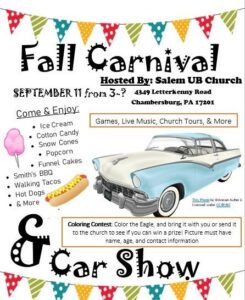 9:30 am Worship Service
Sunday school 10:35-11:30
WEDNESDAY NIGHT CLASSES
At this time and until further notice there will be no Wednesday Evening Classes.
*When Chambersburg School District closes for weather related reasons, Salem will not have Wednesday night activities.
SALEM UNITED BRETHREN CHURCH
What do we strive for? In a word…Authenticity. We want to know God. We want to have a relationship with Jesus, and we want it to be real.
COPYRIGHT NOTICE
The information on this site is the property of Salem United. No broadcasting or duplication of any sermons allowed without permission from Salem United Brethren Church.
CONTACT US
4349 Letterkenny Road,
Chambersburg, PA 17201
717-263-4123