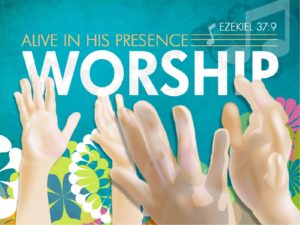 What does it take to produce several worship services each week that glorify God, and that also motivate and encourage God's people? It takes a lot! A lot of effort, thought, planning and a lot of volunteers!
In God's Word, the Bible, it says 'Let everything that has breath praise the Lord!' We have breath – we are to praise the Lord! And at Salem, we do! During our worship services, we have many elements of the worship experience, and many depend on willing volunteers:
Music! Contemporary Music. Traditional Music. Sacred music. Piano, digital keyboard, guitar, drums, bass guitar, banjo, flute, accordion; we've even had someone play the saw during worship! So, we need instrumentalists, and vocalists – to lead us musically in worship.
Prayers! We need pray-ers. people who pray! We have people who pray for those serving in the worship service before it begins. And while it's happening. and we have people who may offer special prayers during certain parts of the service.
Dramas, skits, and sketches. We like to add a little dramatic flair to our services. We have room for people who like to act, to bring out biblical truth in a dramatic or humorous way.
Behind the scenes. We often need people to help create, or fold, or organize our worship bulletins. Or to create special 'sets' for special seasons. Or to decorate the church for Christmas, Thanksgiving, Easter, or other occasions.
if you have a heart for worship, we have room for you to help in worship ministry!